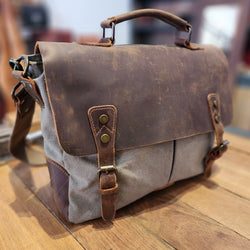 Dallas 13.5 " Kahki Green Canvas & Leather Laptop Messenger Satchel Bag
Dallas is a classic Westerners styled 8 ounce canvas and buffalo leather satchel bag. 
Featuring quick release buckles and secure zippered closure under the leather flap. On the outside,
you will find 3 external pockets – 2 at the front, below the leather cover and 1 in the back, closed by a button, for those items that need to stay handy. I
nternally, you'll find a laptop compartment, a central large compartment, 2 small pockets for phone + charger, 2 pen compartments and a small zippered pocket. The shoulder strap can be separated from the bag and straps adjusted to fit.
Approximate dimensions: 34cm wide x 27 cm high x 11 cm deep