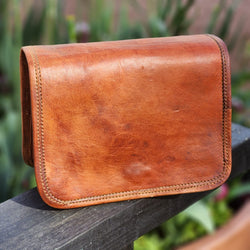 The Post 7 Inch full Grain Goat Leather Satchel Everyday Carry Bag
The Post E.D.C  is part of our timeless collection. From the original postman bag design, just smaller in size, the Post  is made using the finest lightly oiled full grain goat leather. The interior is lined with strong and sturdy canvas and offers a 1 main compartment, 2 slip compartments and a zippered compartment. there is 1 exterior zippered compartment on the back of the Post bag. 
Approximate dimensions: 19.5cm wide x 14.5 cm high x 7 cm deep.