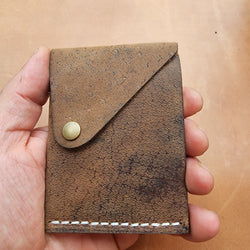 The Leather Trading Co.
The Commander XX 3 Pocket Curve - Handmade Leather Minimalist Slide Card & Cash Wallet
The Commander XX  is a minimalist wallet perfect for carrying your cash, card and coins. All our commanders come with lifetime warranty.
Slides Cash with a tap from your thumb, The Commander can fit several hundred dollars ($100 notes) 6 to 8 cards and coins. 
Perfect for the traveller or the business man. 
Leather Embossing Available
Approximate dimensions: 100 mm x 72 mm