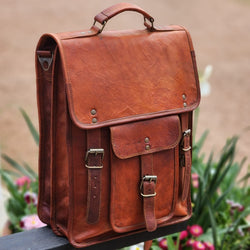 The Leather Trading Co.
"Double Bay" 16 Inch Full Grain Goat Leather Backpack
The "Double Bay" 16 Inch Goat Hide Full Grain Leather backpack is the perfect backpack for work, travel and everyday use. 
Featuring 2 main internal compartment, 6 internal compartments, 2 slip-in compartment,2 zippered compartment (all same length as the main compartment) and 2 internal small pockets, 1 rear zippered compartment and 1 rear large compartment, adjustable backpack strap and shoulder strap and false buckles (2) for easy open and close function.
Approximate size – 40cm high x 30.5 cm wide x 13.5 cm thick.