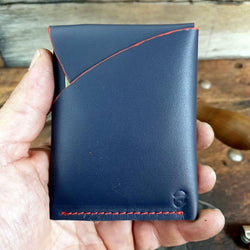 The Leather Trading Co.
The Admiral - Handmade Australian Minimalist Navy Cowhide Leather Card & Cash Wallet
The Australian Made "Admiral" is a full grain leather wallet that is perfect for the minimalist wanting to store several cards, Cash n Coin!
This Admiral (ADMIRAL-100) is made from Australian cowhide with visible scarring which will, overtime soften and darken. 
Finished in navy with red edging, this unique wallet requires no fixtures. Perfect for the purest in minimal living. 
Approximate dimensions: 80 mm x 105 mm