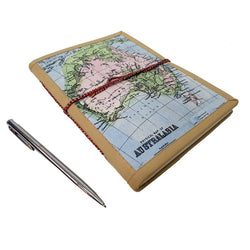 Rust Leather
Australia Handmade Travel Journal
Completely handmade, Australia is our local light weight travel journal featuring a vintage map of the Australia design bounded with wrap around string for note security.
This timeless travel journal boasts 92 pages of refillable handmade cotton parchment paper, or 3 months of page by page note taking for that wanderer documenting their Aussie adventures.
The Australia journal now comes in 2 sizes. 
Medium size: 18cm high x 12.5cm wide x 2cm thick
Large size: 20cm high x 15cm wide x 2cm thick