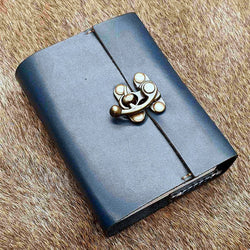 Rust Leather
The Ark Handmade Navy Blue Refillable Leather Travel Journal
The Ark "Made In Australia" lined or unlined refillable cow hide leather journal is our newest in our Ark Range. 
Perfect for travel, this Ark leather diary is made from full grain leather and features a vintage style lock and handmade cotton parchment hardcover refillable book. The Ark boasts approximately 215 pages of lined paper.
With its refillable feature, the Ark is perfect for all occasions; holding your cherished memories, jotting down business activities or the avid traveller.
Leather Embossing Available