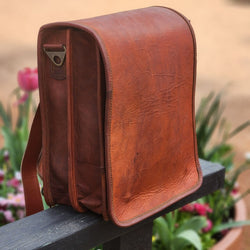 The Leather Trading Co.
12 Inch "Balmain" Full Grain Leather Portrait Messenger Full Flap Satchel Bag
If your looking for sleek, The "Balmain" 12 Inch Full Grain Goat Hide Leather Messenger Bag is perfect for carrying your small computer or tablet, bottle of water, a journal and your essentials. 
Featuring 2 main  internal compartment, 2 slip-in compartment,2 zippered compartment (all same length as the main compartment) and 2 internal small pockets and 1 rear outer zip compartment. Balmain can be converted into a shoulder bag and backpack.
Approximate size – 25cm wide x 33.5cm high x 12cm deep (12 inch High)