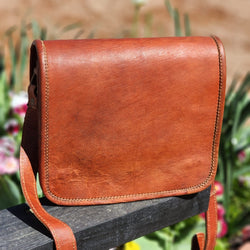 The Leather Trading Co.
The Post 9" Full Grain Leather E.D.C Shouldet Every Day Bag
The Post 9 Inch in length Everyday Carry Bag is one of our timeless goat leather full-flap Postal Range.
The Post Features 1 outer The zippered compartment,  1 internal Zippered compartment,  1 main inner compartment and 1 inner slip compartment. 
Perfect for holding the essentials; Glasses, water bottle,  wallet Keys, Passport, book/phone. 
Approximate Size: 9 inches – 24cm wide x  18cm high x 9 cm deep