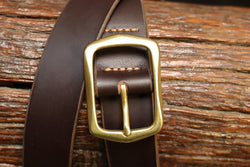 RUSTLER HAND MADE BROWN AMERICAN SOLID BRASS BUFFALO LEATHER BELT
If your looking for most durable belts, our Rustler American Buffalo hide belts with solid brass fitting will do the job!
We offer our belts in three colours and 3 types of heavy duty brass buckles. 
All belts are stitched using M12 Nylon thread sewn three times over for unbreakable strength. 
40 mm wide. 
we use gum edging for a shiny wax finish.