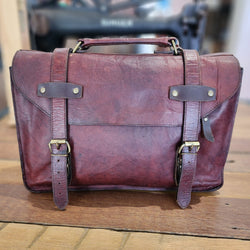 The Leather Trading Co
DA VINCI 15.5 Inch Hand Forged Leather Work Bag
The Da Vinci is a full grain goat hide workbag that's handmade in Sydney. Made without fabric lining this bag is designed to look old. Finished in vintage rustic brown.
Perfect for those looking for an original one of a kind briefcase.  
The Da Vinci is made 1 peice at a time. Please note we will need 2 to 6 weeks to complete your order. 
Features 2 rear compartments ( 1 zippered and 1 open compartment), 1 front zippered compartment,  2 inner main compartments.  First main compartment includes laptop compartment and 3 small compartment and the 2nd internal compartment consists of a central compartment and 2 small compartments. 
Approximate dimensions: 40.5 cm wide x 27cm high x 11 cm deep.