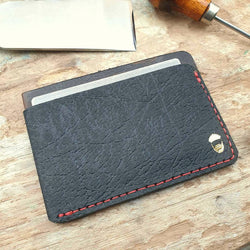 Australian Made 'Ratchet' Kangaroo & Buffalo Leather Card Holder Wallet
If your looking to downgrade your wallet and lifestyle, the 'Ratchet' Roo and Buff hide Card Holder is for you.
Ratchet is large enough to hold business cards, your essential cards and a few notes. 
Made from Kangaroo hide and buffalo hide leather with red stitching,  Ratchet will continue to soften and darken overtime. 
A characteristic of Buffalo Hide is that it becomes darker when exposed to the sun, air and daily use. these characteristics give our products an originality that distinguishes them from other leather goods. Kangaroo hide leather is considered the toughest in world. Period. 

Outer fold - black kangaroo.
Inner fold is brown buffalo. 
Approximate dimensions: 103 mm x 70 mm