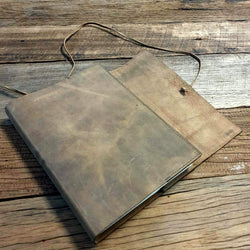 Rust Leather
MAKE AN 'ARK' REFILLABLE LEATHER WRAP JOURNAL - WORKSHOP
A Classic in our range, here is an opportunity to make a journal that lasts a lifetime. 
Choose the leather, stitching colour and book inserts (lined, unlined and art paper available). 
Approximate size: 22cm high x 12cm wide x 1.5cm thick
Workshop Capacity: 1 to 10
Workshop Length: 2.5 hours.
Difficulty: 4/10
Approximate size: 22 cm high x 16.5 cm wide x 2.3 cm thick 
Leather Embossing Available