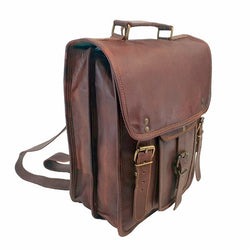 The Leather Trading Co.
Hybrid 16″ Full Grain Leather Backpack
The Hybrid leather backpack is our all-rounder and can be used for travels and for professional purposes.
The Hybrid features 2 main internal compartment, 6 internal compartments, 2 slip-in compartment,2 zippered compartment (all same length as the main compartment) and 2 internal small pockets, 1 rear zippered compartment and 1 rear large compartment, adjustable backpack strap and shoulder strap and false buckles (2) for easy open and close function.
Completely handmade full grain goat leather, this transit bag is lined with green canvas and adjustable shoulder straps for every comfortable length.
Approximate size – 43 cm high x 30.5 cm wide x 13.5 cm thick.