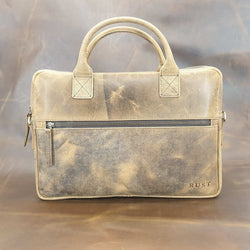 The Leather Trading Co
Urban 15 " Buffalo Slim Leather Laptop Briefcase
Urban is our handmade leather laptop sleeve briefcase made from full grain buffalo hide ideal for comfortably storing and protecting a 15 inch Laptop with 2 sturdy carry handles for on the go convenience.
Urban also leaves plenty of room for any documents or essentials with it's 2 featured zip compartments with the interior padded for protection and lined with a textured brown linen fabric to give a smart finish. This elegant, practical and classically designed leather case is hard-wearing and retains the natural character of the leather with it's creases, small marks, blemishes found throughout. Our buffalo leather cases are intended to age beautifully whilst safely securing all your items within its full-length zips.
Detachable and adjustable nylon shoulder straps also included.
Approximate Size:
39 cm wide x 26 cm high x 4 cm thick